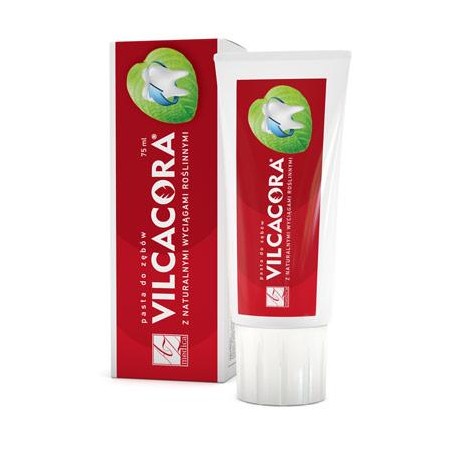  
Vilcacora toothpaste 75 ml
Indicated after antibiotic treatment

No fluorine contained

Recommended in brushing of dental prosthetic fillings and orthodontic apparatuses
Ingredients
Aqua, Sorbitol, Silica, Glycerin, Propolis Extract, Krameria triandra Extract, Cellulose Gum, Sodium Laureth Sulfate, Uncaria tomentosa Extract, Triclosan, Phenoxyethanol, Methylparaben, Ethylparaben, Butylparaben, Propylparaben, Isobutylparaben, Peppermint Oil.

Directions
During the therapy, apply the toothpaste and clean your teeth and mouth cavity twice daily. Rinse thoroughly. In prophylaxis, apply interchangeably with the less active toothpaste. Recommended in brushing of dental prosthetic fillings and orthodontic apparatuses.

Indications
Due to the unique composition of ingredients, the vilcacora toothpaste demonstrates remarkably high antimicrobial activity. It is essential in the combat with paradontium diseases, oral mycosis and caries. It reveals coating properties (the surface of teeth, gums and mucous membrane), which provides long-lasting cleanliness of the mouth cavity, as well as the desired pH level. Eliminates the sediment and dental calculus (tartar). Recommended for brushing of prosthetic fillings and orthodontic apparatuses (braces). Fluorine-free. Clinically tested.
8 other products in the same category: