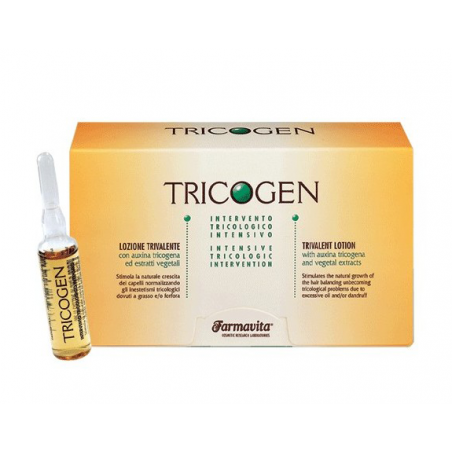  
"Tricogen" Lotion 12 x 8 ml (ampoules)
Combats excessive sebum and dandruff. Helps prevent hair loss.
To combat the excessive sebum, to treat the emerging dandruff and to prevent the hair loss. This triple effect is made possible by the stimulation of Auxina Tricogen and Bald Balsamo Fioravanti.
Concentrate composed of Auxina Tricogena and Balsamo Fioravanti. The first ingredient is able to improve metabolic exchanges between hair and blood circulation; at the same time the many extracts contained in Balsamo Fioravanti ensure a sustained action against excessive sebum and dandruff.

Properties of the Fioravanti Balsam
Ancient herbal traditions attributed an antiseptic and revulsive action to Myrrh (Commiphora myrrha), which in synergy with Ginger (Zingiber officinalis) having a marked integrating effect, free the hair bulb from all impurities, allowing nutritional exchanges to be controlled by them. The essential Laurus oil (Laurus nobilis) maintains the germinative condition of the hair papilla in optimum condition, while Cinnamon (Cinnamomum zeylanicum) develops an effective astringent and purifying effect on the scalp. Moreover, the presence of essential nutmeg oil (Myristica fragrans) and Marjoram (Origanum vulgare) aims to protect, reinforce and shield the hair, reaching the bulb through the circulating blood. The essential Galbanum oil (Ferula galbaniflua) comes into contact with the epiderm increasing the effectiveness; the presence of Zedoary (Curcuma zedoaria) is fundamental, since it exerts an incredible substantive and conditioning action on the hair, by confering body and brilliance. The effect exercised deep down by the essential clove oil (Eugenia caryophyllus) removes excess sebum, progressively re-stablishing the scalp's natural balance. The essential Scotch pine oil (Pinus sylvestis) and the natural Menthol crystals (Menthol) are balanced to ensure the hair receives substantial nutrition for growth. The entire synergy activates cellular respiration conditioning the scalp and helping the hair to defend itself in the best possible way, thus restoring brilliance, silkiness and volume once again.

How to use
Before applying the product, wash the hair with the specific TRICOGEN Shampoo. Then massage the scalp and apply the contents of a phial, moving the hair in order to be as close as possible to the hair bulb. Leave the product for a few minutes then style as usual. Do not rinse. Repeat the application 2 or 3 times a week. When the problem has been attenuated, only one application per week is suggested.
8 other products in the same category: